If you're stopping by for the first time, #LetsMingle Monday is a social link party where bloggers can connect and grow their audience on various social media outlets. Connect with us at our party every other Monday. With 8 permanent hosts and 1 special guest host each week, the party and your links will receive lots of attention!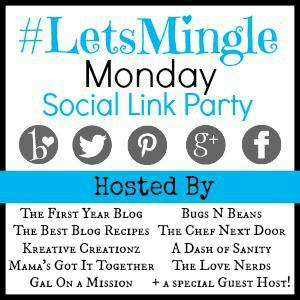 But first, let's review what has been going on here at The Love Nerds. You will definitely want to check out my recipe for Mini Oreo Cherry Cheesecake; it is so delicious! There is also my Fabric Wall Spring Wreath, Free Easter Peep Printables for you, and an easy Hawaiian Ham recipe!
I'm really excited about this next update! You can now follow along with The Love Nerds by email!! Sign up for our email newsletter and choose whether you would like to receive daily, weekly, or monthly email updates!
Now, Meet our Let's Mingle Monday Hosts
Kendra @ Kreative Creationz | Maggie @ The Love Nerds | Shauna @ The Best Blog Recipes
Chelsea @ Gal on a Mission | Sarah @ Mama's Got It Together | Jamie @ Bugs and Beans
 Sarah @ The Chef Next Door | Sandra @ A Dash of Sanity
 Plus our awesome guest host Sarah from This Sarah Loves!