If you're stopping by for the first time, #LetsMingle Monday is a social link party where bloggers can connect and grow their audience on various social media outlets. Connect with us at our party every other Monday. With 8 permanent hosts and 1 special guest host each week, the party and your links will receive lots of attention!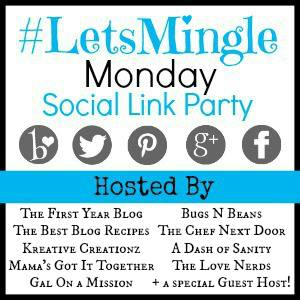 But first, let's review what has been going on here at The Love Nerds. We have been eating some delicious food recently, such as these Clove Apple Pie Bites, Teriyaki Turkey Burgers, and a healthy breakfast sandwich! If you've been wanting to start your own blog newsletter, you can find all the first step instructions.
Need some extra money?! We also have a $500 cash giveaway going on here that you won't want to miss. I for sure could use some extra money!
You can now follow along with The Love Nerds by email!! Sign up for our email newsletter and choose whether you would like to receive daily, weekly, or monthly email updates!
Now, Meet our Let's Mingle Monday Hosts
Kendra @ Kreative Creationz | Maggie @ The Love Nerds | Shauna @ The Best Blog Recipes
Chelsea @ Gal on a Mission | Sarah @ Mama's Got It Together | Jamie @ Bugs and Beans
 Sarah @ The Chef Next Door | Sandra @ A Dash of Sanity
 Plus our awesome guest host Jessica from Savory Experiments! 

We all love our readers and Let's Mingle connections, so we are offering a $70 Amazon gift card this week! Another opportunity to make a little extra money! Before we get to the party, take a moment to enter.