I am so excited to be joining #TastyTuesdays! Tuesdays is always my recipe day, so now I will be sharing a new recipe AND a food link up party that will allow you to connect with awesome recipes from other bloggers, too!
Win-Win! 
Every week, our team of 15 amazing bloggers and at least one fantastic co-host will provide this fabulous food party! We're so glad that you've stopped by to party with us!
If it wasn't for you, there wouldn't be a party at all! We think that makes you pretty special so you deserve to benefit from linking up with us each week. Here's how:
Even though I don't think you want to miss a single post from these awesome bloggers, there is no obligation to follow me or my (co)hosts on social media. You might like to check out all our Pinterest accounts! Click the name of each blogger to open a new tab with her Pinterest account. While you're there, don't forget to follow us so you can see your posts being pinned each week!
This is my first week here, so there are no features yet. That will come next week. You can still spread the word about the party by grabbing this button!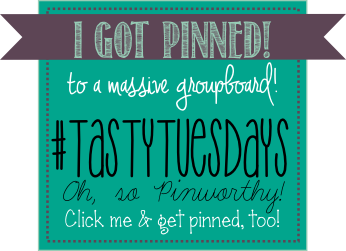 One party; 15 blogs; every post (that follows the rule) gets pinned! By linking up to #tastytuesdays you give an of the 15 hosts permission to use your photos in features or roundups. All credit will be given back to you in the form of a link either to your blog or the specific post.
If you would like to connect with me on social media, here are my profiles!